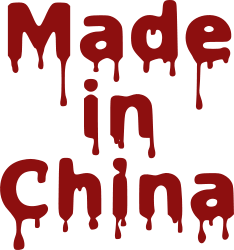 Hacker – Made in China auf meinem Rechner? Zum Glück nicht. Aber die Gefahr ist offensichtlich größer als gedacht und in China scheint die Regierung auch nicht wirklich ein Interesse daran zu haben, dies zu unterbinden. Und wenn ich dann so etwas hier lese (http://www.welt.de/politik /ausland/ article128199572/USA-verklagen- China-wegen-Cyberspionage.html), dann wird mir auch klar, warum.
Manchmal erschrecke ich mich aber trotzdem schon darüber, dass mein Server immer wieder von irgendwelchen chinesischen Hackern unter Beschuss genommen wird. So wie jetzt gerade wieder.
Ich logge mich gerade auf meinem Server ein und bekomme folgende Info:
login as: ich :-)
Using keyboard-interactive authentication.
Password:
Last failed login: Tue Jun 17 13:42:08 CEST 2014 from 122.228.207.77 on ssh:notty
There were 15164 failed login attempts since the last successful login.
Last login: Tue Jun 17 12:12:34 2014 from 217.6.8.236
Have a lot of fun...

Das ist doch echt unglaublich. Innerhalb der letzten paar Stunden haben irgendwelche Hacker es mehr als 15000 mal versucht, meinen Server zu übernehmen. Ich glaube mein Schwein pfeift!
Nachdem ich mir die IP Adresse  217.6.8.236 mal genauer angesehen habe, ist eines klar. Die Angreifer kommen aus China. Ich frage mich allerdings, was die Chinesen mit meinem Server wollen?
whois 122.228.207.77
% [whois.apnic.net]
% Whois data copyright terms http://www.apnic.net/db/dbcopyright.html

% Information related to '122.228.207.64 - 122.228.207.95'

inetnum: 122.228.207.64 - 122.228.207.95
netname: RUIAN-HEZHONG-CO
country: CN
descr: RuiAn HeZhong Co.,ltd
descr:
admin-c: LZ2924-AP
tech-c: CW27-AP
mnt-irt: IRT-CHINANET-ZJ
status: ASSIGNED NON-PORTABLE
changed: zjnoc_ip_6@163.com 20130807
mnt-by: MAINT-CN-CHINANET-ZJ-WZ
source: APNIC

irt: IRT-CHINANET-ZJ
address: Hangzhou, 288 fucun Road, China
e-mail: lfliu@pubinfo.com.cn
abuse-mailbox: antispam@dcb.hz.zj.cn
admin-c: CZ61-AP
tech-c: CZ61-AP
auth: # Filtered
mnt-by: MAINT-CHINANET-ZJ
changed: auto-dbm@dcb.hz.zj.cn 20101129
source: APNIC

role: CHINANET-ZJ Wenzhou
address: No.2-1 Huancheng Road(East),Wenzhou,Zhejiang.325000
country: CN
phone: +86-577-88818629
fax-no: +86-577-88818635
e-mail: anti_spam@wz.zj.cn
remarks: send spam reports to anti_spam@wz.zj.cn
remarks: and abuse reports to anti_spam@wz.zj.cn
remarks: Please include detailed information and times in UTC
admin-c: CH117-AP
tech-c: CH117-AP
nic-hdl: CW27-AP
mnt-by: MAINT-CHINANET-ZJ
changed: master@dcb.hz.zj.cn 20031204
source: APNIC
changed: hm-changed@apnic.net 20111114

person: LIBING ZHAO
nic-hdl: LZ2924-AP
e-mail: stephen@stephenwxf.com
address: Wenzhou,Zhejiang.Postcode:325000
phone: +86-13958840555
country: CN
changed: zjnoc_ip_2@163.com 20130807
mnt-by: MAINT-CN-CHINANET-ZJ-WZ
source: APNIC

% This query was served by the APNIC Whois Service version 1.69.1-APNICv1r0 (WHO IS4)


Glücklicherweise ist es bisher noch keinem Hacker gelungen, diesen Server zu übernehmen. Das war aber nicht immer so und ich habe schon das eine oder andere mal eine Neuinstellation durchführen müssen. Allerdings ist das schon lange her und ich habe viel aus den erfolgreichen Hacker Attacken gelernt und meine eigenen kleinen Tools gebaut, die mich über pot. Probleme informieren.